The iconic Magnetic Hill, the turquoise coloured Pangong Lake, the confluence of two mystical rivers, ancient and awe inspiring monasteries and the highest passes are a few of the marvelous attractions of Leh and Ladakh in general.
Duration : 7 Days / 6 Nights
Price : 34000
Day 1: Welcome to Ladakh
---
Leh
Fly from New Delhi to Leh, a spectacular flight over the mountains. You may even be able to see K2, Nanga Parbat, and Gasherbrum. On arrival, your guide will meet you and take you to your hotel.
Take it easy after arrival, as the altitude difference between Delhi and Leh is large (Leh is at 11,562 feet/3500 m). If you feel like it, head out to explore one of Leh's markets, which are a good introduction to the life and culture of the city.
Day 2: Tour of Monasteries Around Leh: Shey, Thiksey, & Hemis
---
Hemis monastery
Begin your exploration of Ladakh today, after breakfast, with a tour of the monasteries near Leh. Begin by driving up the Indus Valley to Shey Palace and Gompa (monastery). Located on a hillock 9 miles (15 km) upstream from Leh, Shey was once the seat of the kings. A 24-foot (7.5-m.) high gold-plated copper statue of Buddha sits here.
Continue driving to Thiksey Gompa, a couple more miles up the road. It's one of the largest and most architecturally impressive gompas in Ladakh. There are several beautiful temples within the walls, plus stupas and Buddhist wall paintings. Thiksey has been nicknamed the mini Potala Palace, because of its resemblance to the palace in Lhasa, Tibet.
Last but not least is Hemis Gompa, 25 miles (40 km) from Leh. It's the biggest, wealthiest, and best-known gompa of Ladakh. Its popularity partly stems from the major summer festival held here, in honor of Guru Padma Sambhava's birth anniversary. It also has the largest Thangka in Ladakh, which is unfurled once every 12 years. Hemis was built in 1630, and looks quite different from many other monasteries in Ladakh. Check out the frescoes on the verandas.
After returning to Leh you'll visit the Shanti Stupa, on a hill above the city. Built in 1995, from the stupa you can see panoramic views of Leh and the Indus Valley.
Day 3: Drive Leh to Nubra Valley via Khardungla Pass
---
Road to Nubra Valley
Rise early this morning to journey to the Nubra Valley, via what is known as the world's highest motorable road and the Khardungla Pass (18,379 feet/5602 m.). Arrive in Nubra by around noon, after a six-hour journey, and check in to your hotel.
Plan your trip to India
Customize your trip with help from a local travel specialist.
Day 4: Nubra Sightseeing: Deskit, Hundar, & Camel Safari
---
The Nubra Valley
After breakfast, visit Deskit, the main village in the Nubra Valley. There's a small market and a gompa dating back to 1420 on the hilltop, from which there are spectacular views of the valley. About 100 monks live here. Then, continue to Hundar village, where you'll also see Samstanling Monastery and a ruined fort on a hill above it.
Then, return from Hundar to Deskit on a Bactrian camel safari (or on foot if you prefer). The trek through the sand dunes takes about two hours. Then, head to your hotel in the Nubra Valley to spend the night.
Day 5: Nubra to Pangong Tso via Shyok River
---
Pangong Tso
This morning, visit Panamik, famous for its hot springs, then drive to Pangong Tso (lake), which is the largest brackish lake in Asia. A large part of it extends into Tibet. The lake is 80 miles (130 km) long and 3 miles (5 km) at its widest point. It freezes completely in winter and there's no marine life here, except for a few migrating birds like gulls and Brahminy ducks.
As this is a border region, the furthest point you're allowed to go to is Spangmik, from where there are spectacular views of the mountains of the Changchenmo range to the north, as well as their reflections in the ever-changing surface of the blue-green lake. Above Spangmik are the glaciers and snow-capped peaks of the Pangong range. Spend the night on the shores of Pangong Tso.
Day 6: Pangong to Leh via Sindhu Ghat
---
Sindhu Ghat
Today, drive back to Leh via the Chang La Pass (17,388 feet/ 5300 m.) On the way, see Sindhu Ghat, where the Sindhu Darshan festival takes place on the banks of Indus river, and SOS children village.
Day 7: Fly from Leh to New Delhi
---
Delhi Airport
You'll be transferred to the airport in Leh in good time to check in for your flight to Delhi. Shubh yatra and bon voyage!
GALLERY / PHOTOS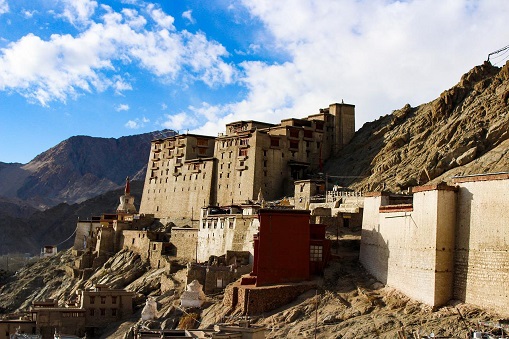 HOLIDAY PACKAGE OFFER
HOLIDAY SPECIAL 25% OFF !
Sign up now to recieve hot special offers and information about the best tour packages, updates and discounts !!